McNeill Pointe Shopping Center Grand Opening
Grand Opening Today | 10/12/19 | 11:30am to 3:30pm
---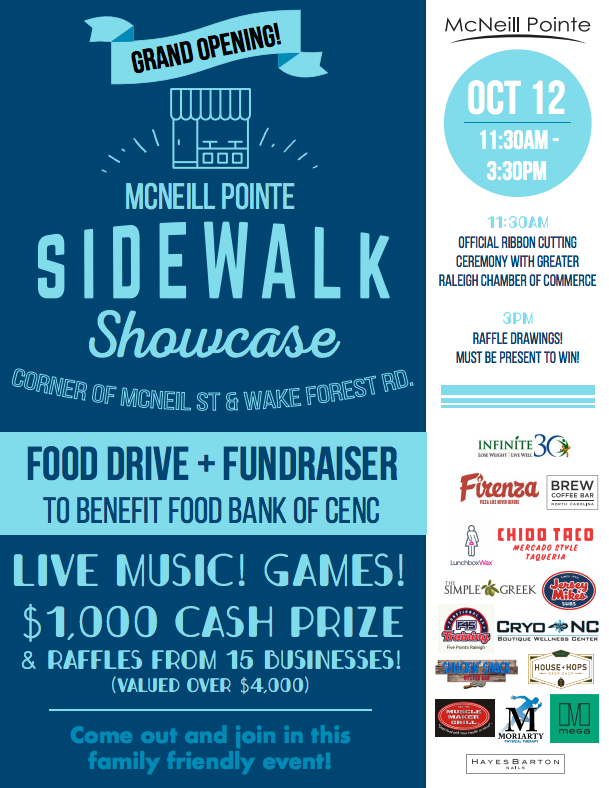 McNeill Pointe Shopping Center Grand Opening
Saturday October 12th 2019 11:30am to 3:30pm
---
Raleigh NC, We are excited to announce the grand opening of the McNeill Pointe retail shopping center located at the corner of McNeil Street and Wake Forest Road in Raleigh, North Carolina.
To celebrate there will be an official ribbon cutting with The Greater Raleigh Chamber of Commerce and a Food Drive and Fundraiser with raffle ticket sales that will benefit the Food Bank of Central & Eastern North Carolina with the GRAND PRIZE RAFFLE of $1,000.00 (must be present to win) + Raffles from 15 businesses (valued over $4,000).
Faceboook event: facebook.com/events/499925410564171/
Event Schedule:
11:30 – official ribbon cutting with @raleighchamber
11:30-12:30 – photos with Stormy @canes fan fave
11:30 – 3:30 – bounce house, face painting and balloon art
12:30-2:30 – photos with Mr and Mrs Wuf @ncstate fan faves
1-3 – live music
3pm – raffle drawings (must be present to win!)
Bring the family out for activities including face painting, bounce house, free coffee and donuts from Brew, live music, drinks and so much more. We will be collecting food and monetary donations for the Food Bank of Central & Eastern North Carolina to exchange for 🎟 raffle tickets.
Prizes on Raffle from the following businesses:
House of Hops McNeil Pointe
F45 Training Five Points Raleigh
MEGA Raleigh
The Simple Greek
HAYES BARTON NAIL SALON
INFINITE30/RALEIGH WEIGHT LOSS
SHUCKIN SHACK
MUSCLE MAKER GRILL
LUNCHBOX WAX
CHIDO TACO
FIRENZA PIZZA
JERSEY MIKES SUBS
MORIARTY PHYSICAL THERAPY
CRYONC CRYOTHERAPY
BREW COFFEE BAR

PARKING IS LIMITED!
We encourage guests to walk, ride bikes, or ride share. Additional parking is available on McNeil Street, or at Ritz Raleigh and ride a shuttle to our center!
2740 McNeil St, Raleigh, North Carolina 27608